Happy Dussehra
Dussehra is a Hindu festival. It begins on Navaratri and concludes on Happy Dussehra, the tenth day. For nine days, nine goddesses are worshipped. And on the tenth day, Ravan is burnt. It is celebrated as Vijayadashami or Dussehra. It is also known as Darshi.
On the day of Dussehra, people of the Hindu religion make prasad in the temple and at home. On this day, an effigy of his brother Kumbhakaran and Meghnad is made of Ravana, the famous king of Sri Lanka. A huge fair is held on this day, and those effigies are erected. These effigies are burned in the evening. And people pray that all our evil deeds also end with this.
In many places in India, celebrations last for ten days. This is called Ramleela in North India. The Meaning of Dussehra: The word Dussehra is derived from two Hindi words, "Dus" and "Hara", where "Dus" means ten (10) and "Hara" means annihilated or defeated.
Check Out Next Coming holiday Columbus Day, World Teacher Day, Yom Kippur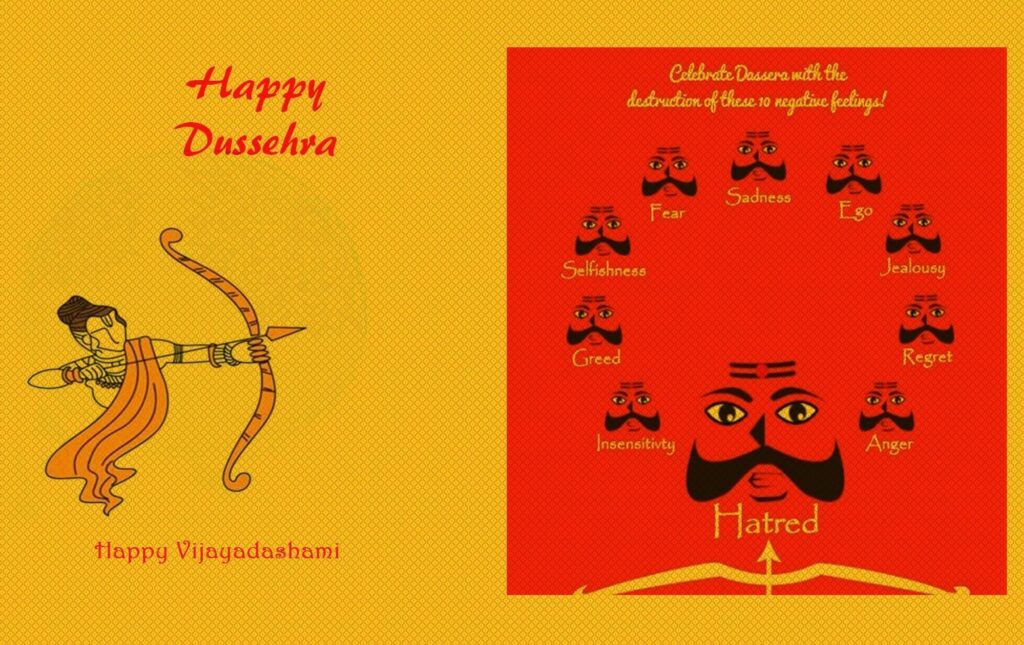 The Festival of Vijayadashami
In the Ramayana text, it says that Lord Rama had performed ChandiYagya to personify Goddess Durga before starting the war and to ask for a boon from her. This day is also known as DurgaUtsav and is celebrated by the whole country with joy and happiness.
It is believed that the goddess killed Mahishasura on the tenth day. The festival of Vijayadashami brings new energy to people's minds, learning of the victory of good over evil, unique desires, and positive energy in people's minds.
During the nine days of Navaratri, nine forms of Goddess Durga are worshipped: Shailputri, Brahmacharini, Chandraghanta, Kushmanda, Skanda Mata, Katyayani, Kalratri, Mahagauri, Siddhidatri, etc.
In Gujarat and Bengal, the festival of Navaratri is celebrated with different enthusiasm, and Garba in dance is the specialty of these 9 days. Big programmers playing Garba and Dandiya are organized.
During the 9 days of Navaratri, devotees observe a fast by consuming fruit once a day, and the glory of these 9 days is seen differently in every city across the country. At the end of this Navaratri, Kanya Puja is performed in which 9 small girls are worshipped and given as prasad, pudding, puri, gram, and money in the form of gifts, and Dakshina are given.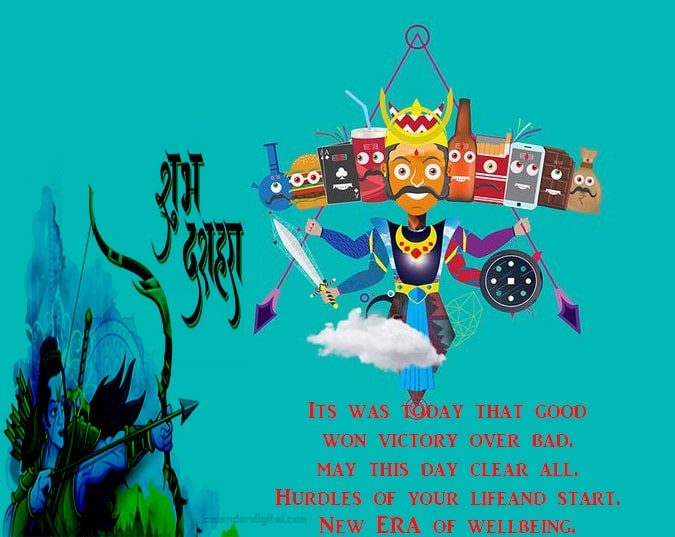 Dussehra Wishes Images
This day is considered to be the day of the victory of religion over unrighteousness. On this day, Lord Ram killed the arrogant Ravan. At this festival, it is believed that lust, anger, ego, violence, and bad habits should be given up. He was assassinated as a result of his arrogance.
Vijayadashami Puja Rituals
On this day, people take a bath before sunrise and worship, and 10 balls of cow dung are made and the seeds are sown on them. They are burnt after worshipping Lord Rama.
Navaratri, the start of Hindu festivals, It is a very auspicious time. May this time bring happiness for all of you. You can download Dussehra Images, Special Greetings, and Images from our websites.